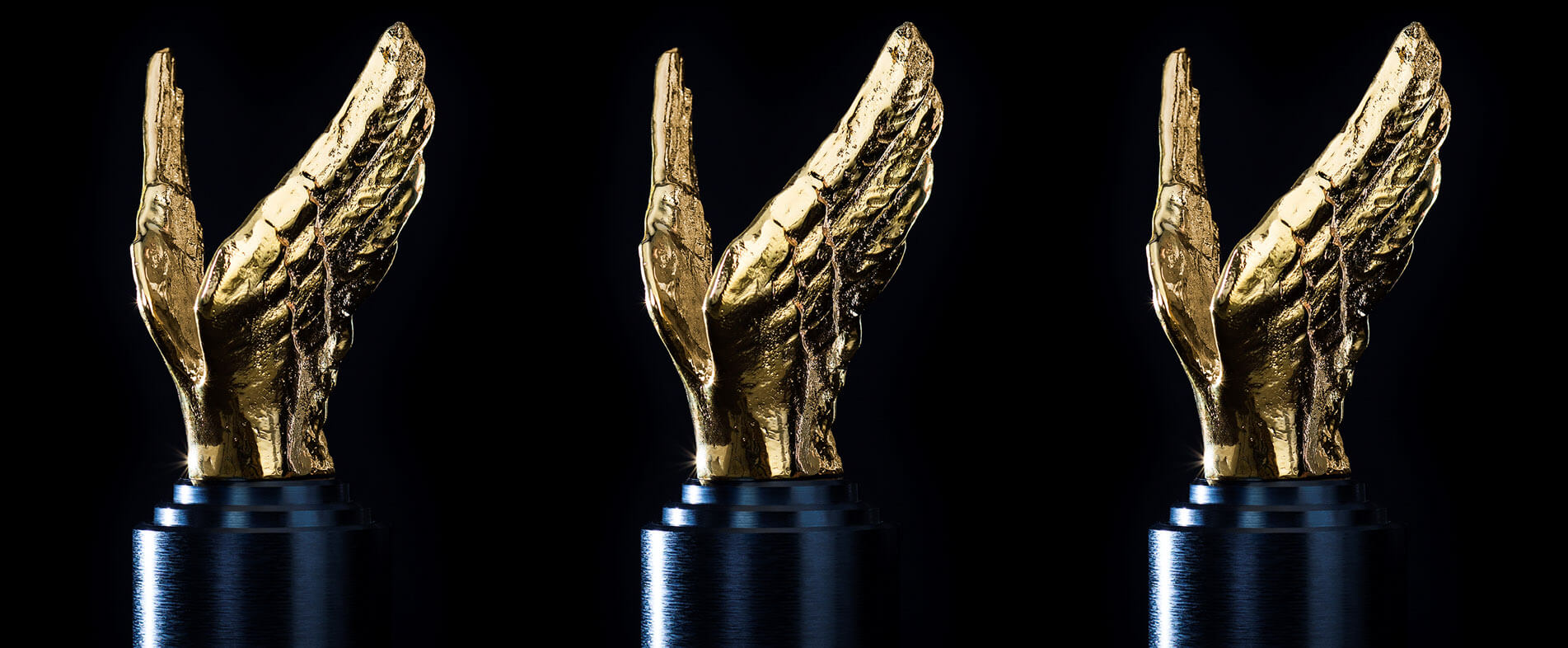 WINNERS VENICE TV AWARD 2018 ANNOUNCED
We are delighted to announce the Winners of the 2018 VENICE TV AWARD, supported by egta, ACT (Association of Commercial TV) and IMZ International Music + Media Centre. Celebrating the masterpieces of TV.
Outstanding work from United Kingdom, Germany, India, France, USA, Singapore, Sweden, Italy, Ireland, Czech Republic, Austria, Spain, Lithuania, New Zealand, Croatia, Taiwan, Australia, Norway, Belgium, The Netherlands, South Africa was rewarded.
Congratulations to all the winners and thank you to all our jurors for honoring the companies and individuals responsible for excellent creations.
Documentary
Title: Mosul
Broadcaster: FRONTLINE, PBS, Channel 4
Country: United States / United Kingdom
Production: Mongoose Pictures
Executive Producer: Daniel Edge
Producer: James Jones
Director: Olivier Sarbil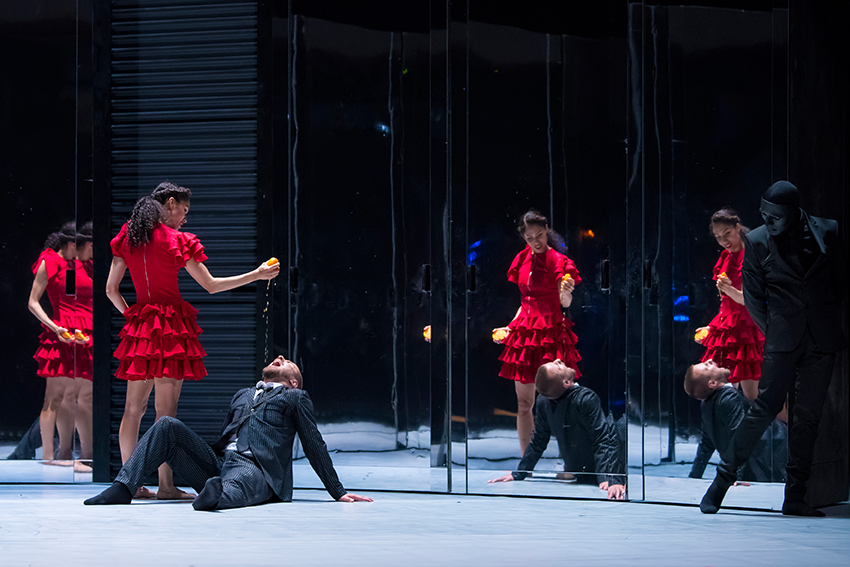 Performing Arts
Title: CARMEN
Broadcaster: France Televisions – France 2 & Mezzo
Country: France
Production: Wahoo Production
Executive Producer: Odile Carlotti
Producer: Frederic Allain
Director: Stephane Lebard
Light Entertainment
Title: Cruising with Jane McDonald
Broadcaster: Channel 5
Country: United Kingdom
Production: Elephant House Studios
Executive Producer: Jeff Anderson
Producer: James Peters
Director: Jon Cowen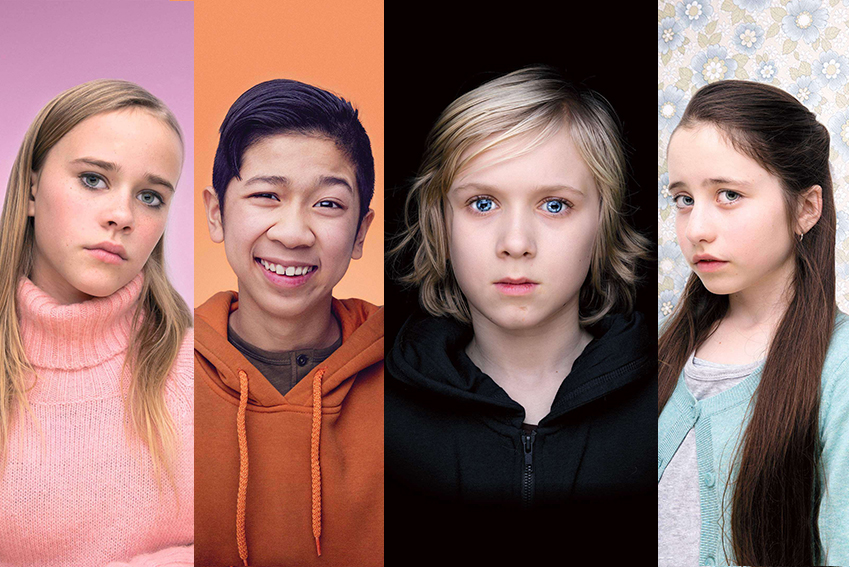 Children/Youth
Title: ZombieLars
Broadcaster: NRK Super
Country: Norway
Production: Tordenfilm
Executive Producer: Eric Vogel
Producer: Anne Bergseng, Gisle Halvorsen
Director: Atle Knudsen, Tonje Voreland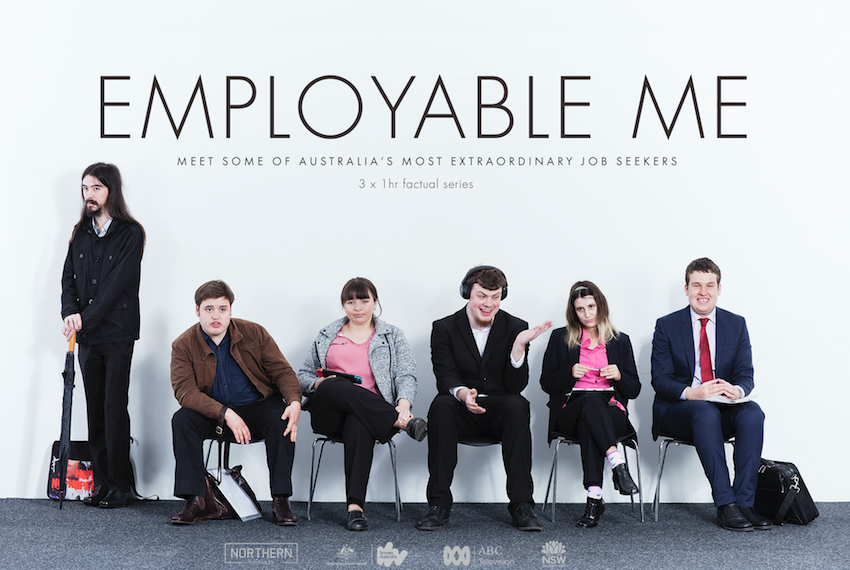 Reality TV
Title: Employable Me
Broadcaster: Australian Broadcasting Corporation
Country: Australia
Production: Northern Pictures
Executive Producer: Karina Holden & Sue Clothier
Producer: Jenni Wilks
Director: Cian O'Clery
Cross-Platform
Title: Bigg Boss 11 – Nosy Neighbours
Broadcaster: Colors
Country: India
Production: Viacom18 Media (Colors)
Executive Producer: Viacom18 Media (Colors)
Producer: Colors
Director: Colors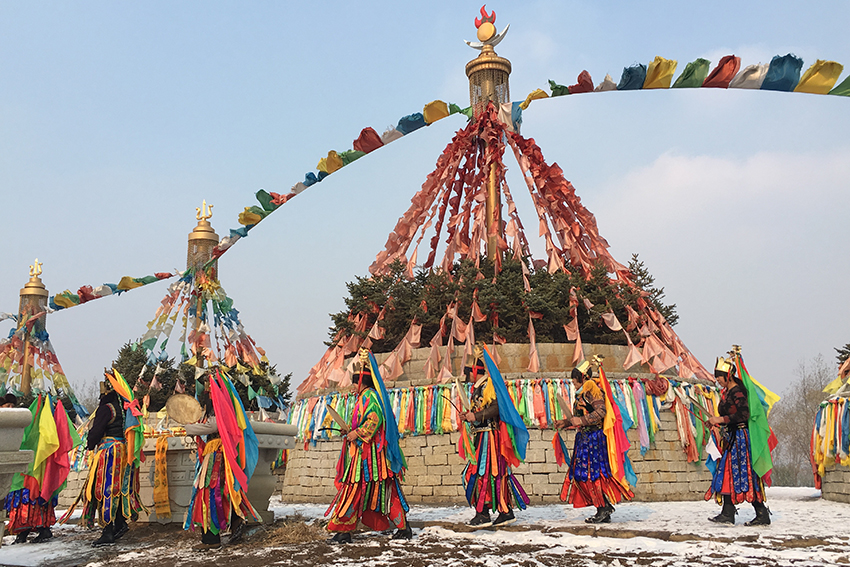 Branded Entertainment
Title: Route Awakening Season3
Broadcaster: National Geographic Asia
Country: China
Production: Sitting In Pictures
Executive Producer: Tan Chih Chong
Producer: Chang Soh Kiak
Director: Chang Soh Kiak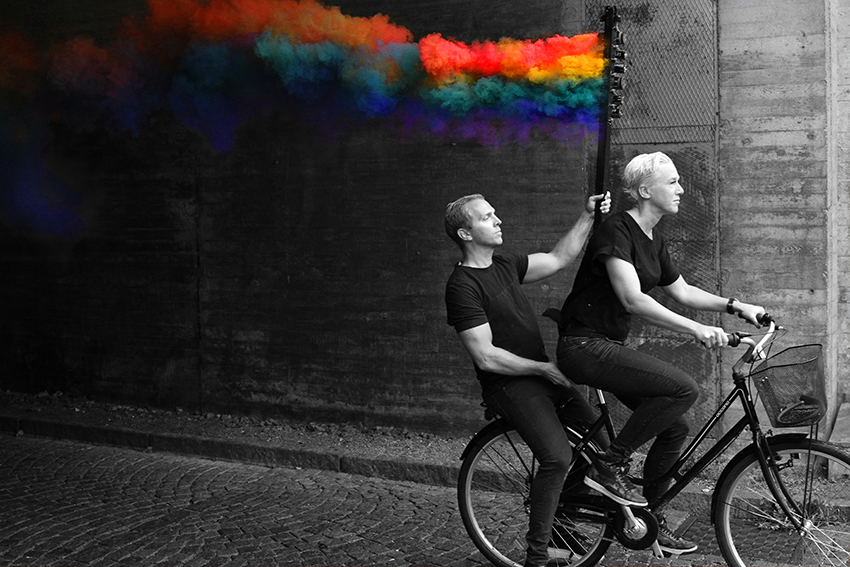 Sport
Title: Regnbågshjältar / Rainbow Heroes
Broadcaster: SVT / Swedish Television
Country: Sweden
Production: Filmriding and Swedish Television
Executive Producer: Linn Hellstrand and Niklas Hyland
Producer: Elin Norberg
Director: Elin Norberg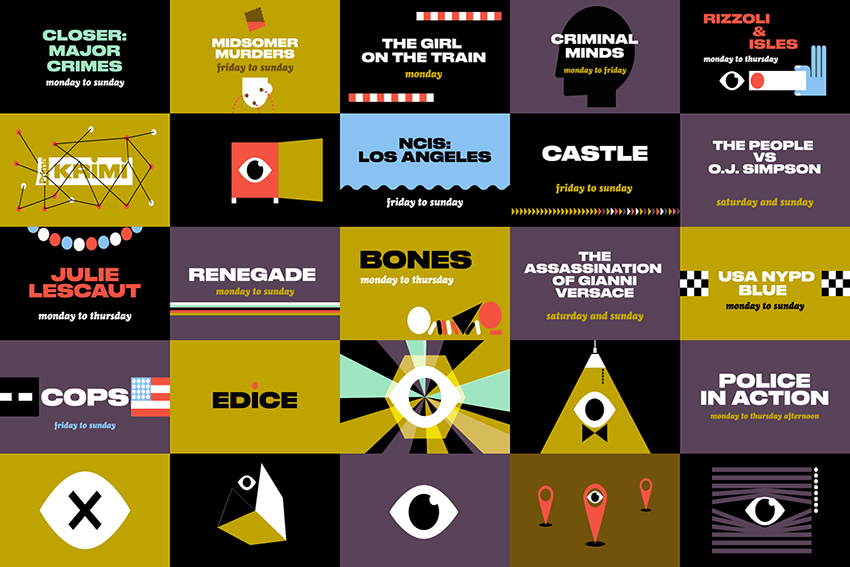 Program Promotion
Title: PRIMA KRIMI BRAND IDENTITY
Broadcaster: PRIMA TV / PRIMA KRIMI
Country: Czech Republic
Production: Department for TV PRIMA
Executive Producer: Michal Pacina
Producer: Viktor Jansik
Director: Pavel Fuksa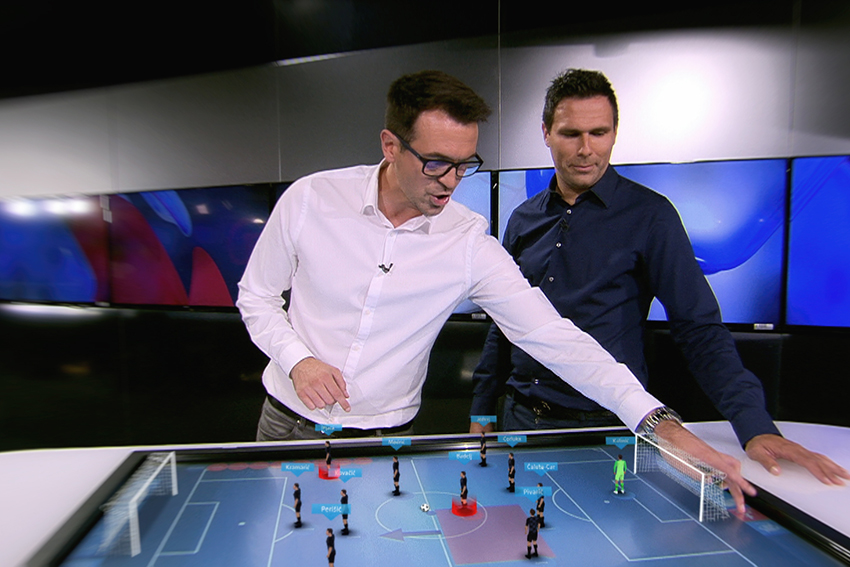 Technical High Quality
Title: Nova TV's AR tactical analysis of FIFA World Cup 2018 football games
Broadcaster: Nova TV
Country: Croatia
Production: Nova TV
Executive Producer: Antonio Blašković
Director: Ksenija Kardum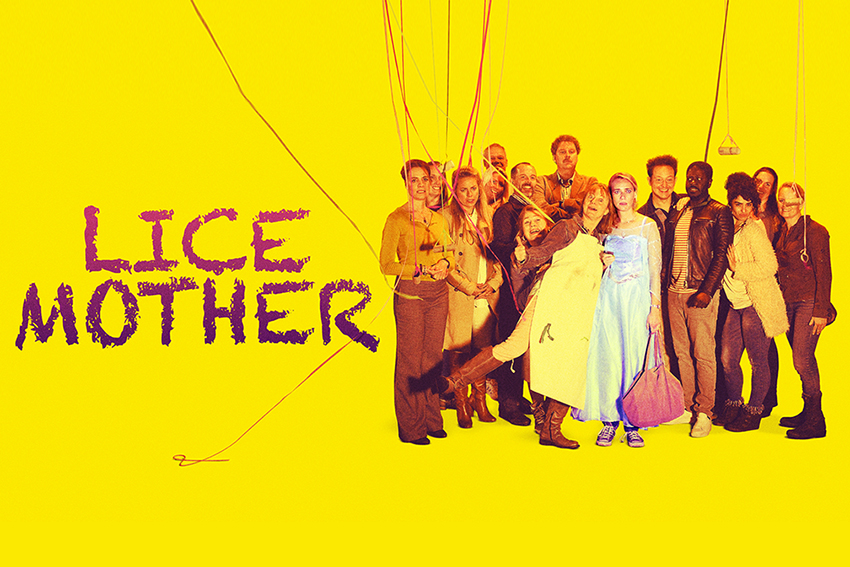 Comedy
Title: De Luizenmoeder
Broadcaster: AVROTROS / NPO3
Country: Netherlands
Production: Bing Film & TV BV
Executive Producer: Pavel Marik
Producer: Ingmar Menning
Director: Jan Albert de Weerd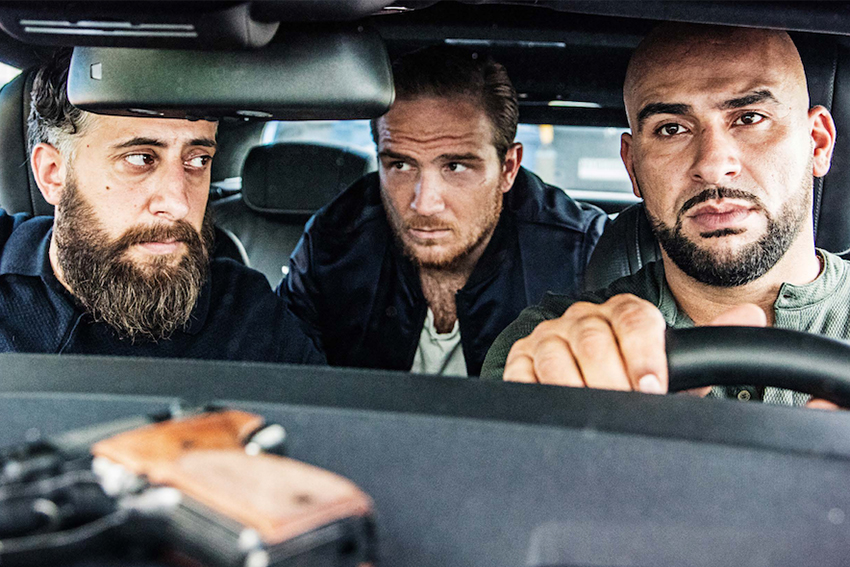 Best TV Series
Title: 4 Blocks
Broadcaster: TNT Serie
Country: Germany
Production: Wiedemann & Berg
Executive Producer: Max Widemann, Quirin Berg, Hannes Heyelmann, Anke Greifeneder, Eva Stadler, Karsten Rühle
Director: Marvin Kren
Best TV Movie
Title: Summer of '44 – The Lost Generation
Broadcaster: ARD
Country: Germany
Production: Zieglerfilm Baden Baden
Executive Producer: Marc Müller- Kaldenberg
Director: Friedemann Fromm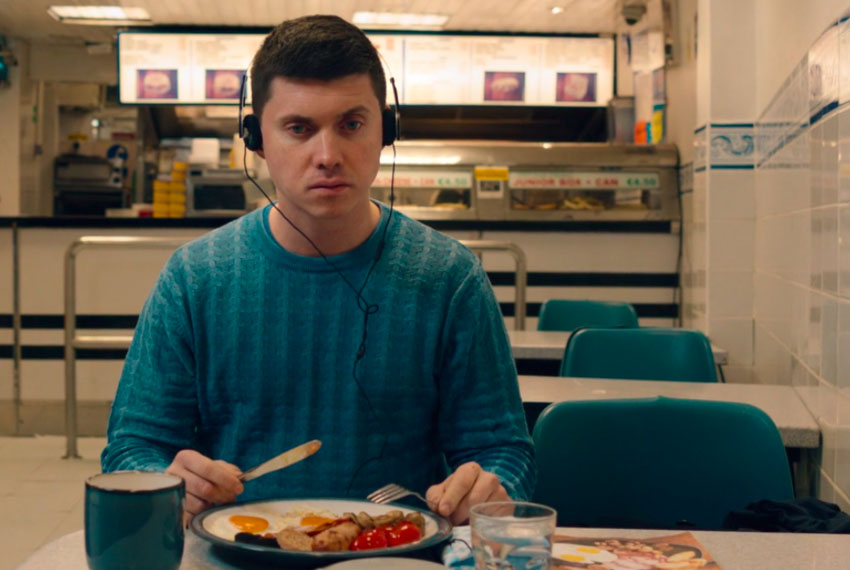 Best Talent
Title: Wave
Country: Ireland
Production: Assembly
Executive Producer: Rebecca Bourke
Producer: Rebecca Bourke
Director: Benjamin Cleary and TJ O'Grady-Peyton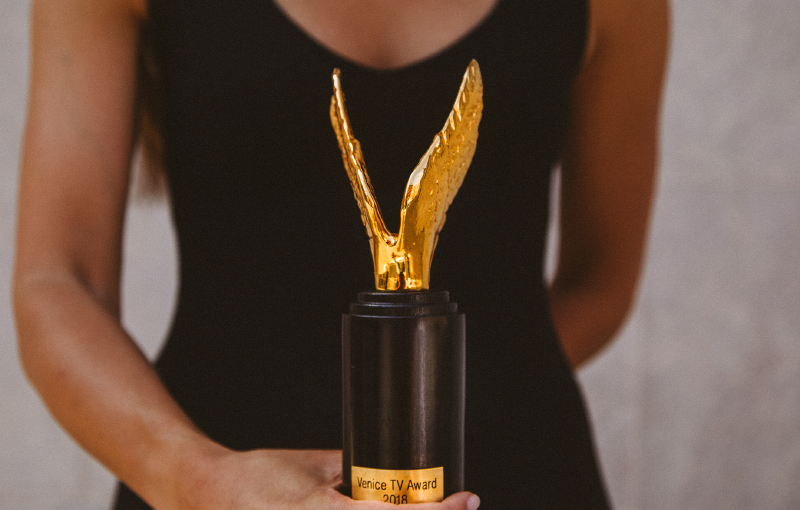 A trophy is the expression of the highest honor. This is why the VENICE TV AWARD
created a trophy inspired by the City of Venice with wings in the coat of arms and the ancient winged lion sculpture.
The trophy is gold plated on a black painted wooden base, made of walnut, like the gondolas –
required by law painted in black. The Wings are handmade and no two trophies are alike.
The wing shape is making its appeal as a statue of achievement and triumph.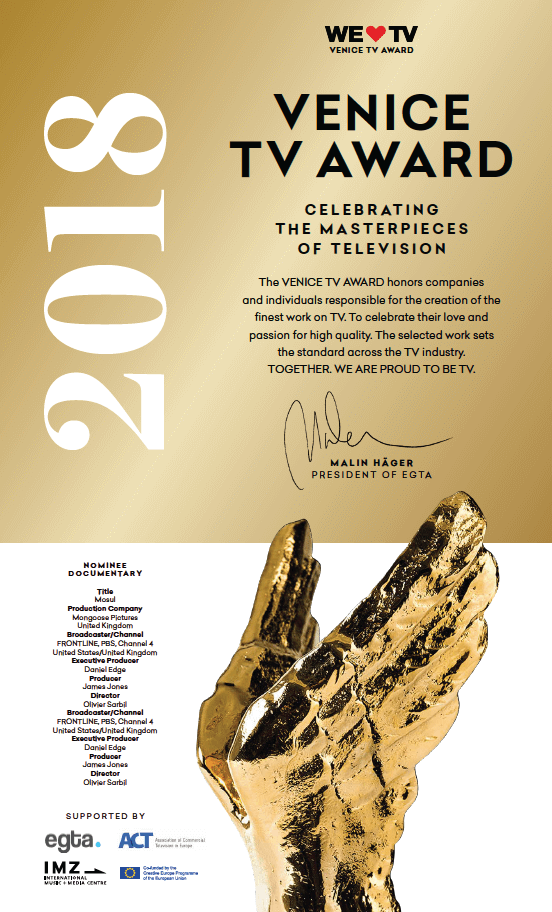 All Winners and Nominees are rewarded with the VENICE TV AWARD Nominee Certificate
which credits and honors the companies and individuals responsible for excellent creations.
The Nominee Certificate features multiple individual information with his/her personal specific contribution.
Exhibited to remind the success, victory and achievement of winning.