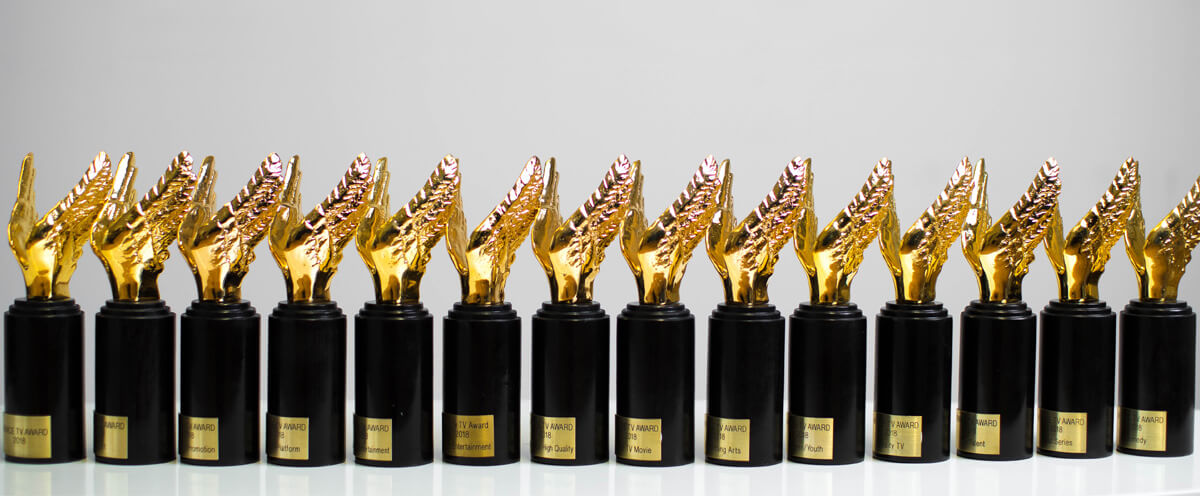 THE YEAR'S BEST TV RECOGNISED AT THE VENICE TV AWARD
Gold trophies and nominees will be awarded to masterpieces of television in 19 categories
Two weeks after the Film Festival, international Jurors will meet in Venice for the Venice TV Award, supported by ACT (Association of Commercial TV), egta (European Group of Television Advertising) and The IMZ International Music + Media Centre.
It will bring national and international recognition for quality content together and celebrate the masterpieces of TV.
We honor companies and individuals responsible for quality content. Gold Trophies and Nominees will be awarded in 19 categories. New this year are the craft categories Animation, Cinematography, Direction.
Broadcasters, cable networks, online platforms, production companies, producers, streaming services are invited to enter. Together. We are proud to be TV.
Presided over by a jury of leading TV experts, the Venice Television Award is awarded to TV shows in the categories of Documentary, Best Series, Best TV Movie, News, Performing Arts, Comedy, Children/Youth, Reality TV, Light Entertainment, Program Promotion, Branded Entertainment, Sport, Best Of Technical High Quality, Cross-Platform Programming, New Talent, Best Soap/Telenovela, Animation, Cinematography, Direction.
"It is a great time to watch TV. An award show like the Venice TV Awards, that recognises and values such entertainment media, is relevant and necessary", states Karim Bartoletti, executive board member, Italian Association of Production Companies and one of this year's jurors.
The Venice TV Award competition is open for production companies, broadcaster, cable networks, online platforms, and entities affiliated with the television industry. Entries must have first aired between 1 January 2022 and 20 September 2023. Deadline: 30 June.
"Due to the dedicated work by talented people, the quality of television programming today is better than ever. I am pleased that the Venice TV Award recognises this," said Sonia Rovai, head of scripted production at Sky Italia.
Young creatives from around the world have a platform at the Venice Television Awards, where, in collaboration with Scuola di Cinema Luchino Visconti, talents are given the opportunity to present their work to leading international TV experts.
Winner will be announced 27 September.
Full List of Gold Winners Venice TV Award 2022
TV SERIES
Landscapers – Sky Atlantic, United Kingdom – Production: SISTER in association with South of the River Pictures
TV FILM
Help – Channel 4, United Kingdom – Production: The Forge Entertainment, One Shoe Films
COMEDY
Minx – HBO Max, United States – Production: Lionsgate Television, Feigco Entertainment
BEST DOCUMENTARY
Arsène Wenger: Invicible – Canal+, France – Production: Federation Entertainment, Noah Media Group, Yvette Production
CHILDREN / YOUTH
COP26: In Your Hands – Sky Kids, United Kingdom – Production: Fresh Start Media Productions
REALITY TV
Love on the Spectrum U.S. – Netflix, United States – Production: Northern Pictures
NEWS COVERAGE
ITV NEWS: The Storming of the Capitol – ITV, United Kingdom – Production: ITN/ITV News
PROGRAM PROMOTION
ONAIR GLOOB – GLOOB, Brazil – Production: Globo
BEST OF TECHNOLOGY AND INNOVATION
Inaccessible Cities – Al Jazeera, Qatar – Production: AJ Contrast, Al Jazeera Digital
PERFORMING ARTS
Romeo & Juliet – Sky Arts, United Kingdom – Production: National Theatre in association with Sabel Productions/Cuba Pictures
CROSS PLATTFORM PROGRAMMING
Clara Henry – The revenge – Sveriges Television AB/SVTPlay, Sweden – Production: Sveriges Television
LIGHT ENTERTAINMENT
Life & Rhymes – Sky Arts, United Kingdom – Production: CPL Production
TELENOVELA
Festa é Festa (Life's a Party) – TVI, Portugal – Production: Plural Entertainment
SPORT
Kiyou's Kata – Kansai Television, Japan
BRANDED ENTERTAINMENT
LEGO Masters USA – FOX, United States – Production: Endemol Shine North America and Tuesday's Child
NEW TALENT
In Harmony – Markus Øvre – University for the Creative Arts, United Kingdom